Plug & Play Solutions for RIAs
(And Advisors Looking to Go RIA)
Providing a low friction pathway for breakaway advisors to go RIA while they maintain 100% control and ownership of their books.
Sovereign's

Value Proposition for breakaway advisors
Highly Competitive. Fully Transparent.
The following is a
brief
summary of Sovereign's value proposition for breakaway advisors. You can see even more details (including full team members, locations, etc.) at Sovereign's advisor facing public website:
www.SovereignAdvisorSolutions.com
A "clean" 100% payout is the starting point.

Platform fees:
$500 / month

: Covers E&O, Registrations and Base Tech Stack [Orion, Salesforce, Office 365, RingCentral, AdvicePay, Global Relay]*

20 BPS

on the first $20,000,000 AUM

10 BPS

on the next $80,000,000 AUM

5 BPS

for AUM over $100,000,000

That's it! Period. Full stop.
* eMoney & Riskalyze are offered as an optional add-on at $100 / month – a deep discount to the actual cost. * There may be a de minimis per account charge for low balance accounts. These charges are determined in advance on a case by case basis.
Sovereign's in-house TAMP (
Align
) delivers asset management services to advisors at a
very low cost
and
tremendous ease of use
. The TAMP fees (see below) can be charged to the advisor or the client.
Choose from any of 1,000s of portfolios on the

Orion

model marketplace. Below are just some of the choices:
Create your own models

Use Sovereign's models
5 bps

for non-tax sensitive accounts

10 bps

for tax sensitive accounts (this includes tax sensitive trading and tax loss harvesting)

20 bps

for

Direct Indexing
Sovereign provides ad-hoc client support for advisors. These services include all you would expect from a client service associate: New account opening, funds in / out, setting appointments, client meeting prep, etc..
COST: $70 / hour. Pay-when-you-need solution offers the ultimate in flexibility.
Sovereign's PEP

: The 401K solution for advisors that hate 401ks
Easy to deploy. Easy to service
Our PEP solution is branded as:
Align Retirement Pathways
. It can be used by advisors affiliated with
Sovereign
and can also be used by advisors not affiliated with
Sovereign
-- it is a fully open architecture 401K soltion.
Sovereign has teamed up with
The Newport Group
to create an in-house 401k solution that is hard to beat. The Align PEP offers:
Extremely low fees for your client:
$3,250 / year

$60 / participant

15 BPS

Advisor fee: Set by the advisor at his / her discretion.

Advisors at Sovereign get a 100% payout on all PEP 401Ks
3(38), 3(16) and PPP services (which means Newport, not the client, signs the 5500 form).

A Self-Directed brokerage option that allows advisors to "pluck out" key participant accounts for direct management. This allows the advisor to deliver more customized wealth management solutions to larger 401k participants and charge their customary advisory fee.
Video replay of Chuck moderating the PEP panel at an InvestmentNews RIA Summit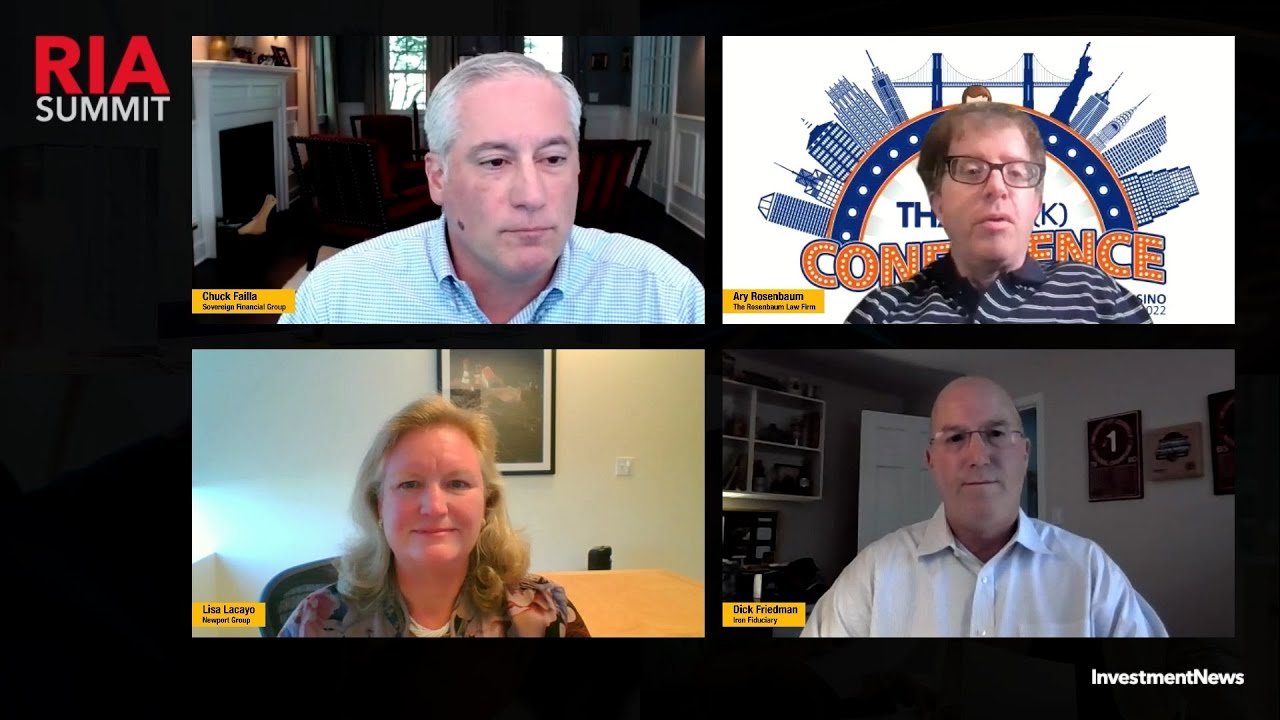 A word about Sovereign's founder + cEO
Passionate about independence. Dedicated to ellevating the RIA experience.
Chuck has been a financial advisor for more than 25 years. He started in the early 90s as a "cold calling cowboy" in NYC selling individual stocks. As he built his book, he always planned to go independent and did so in 1999 by opening an independent branch of Raymond James Financial. At that time, Chuck earned his CFP® designation and transitioned from individual stock picking to financial planning and asset allocating using mutual funds and SMAs. Chuck's practice evolved into what is today Sovereign Financial Group, Inc., an SEC registered RIA. With offices and advisors in Connecticut, New York and Pennsylvania, Sovereign is one of the fastest growing, independently owned RIAs in the Northeast.
Chuck is also the Director of Sovereign Advisor Solutions (SAS)-- a division of Sovereign Financial Group, Inc. SAS helps advisors transition to RIA by offering a comprehensive plug and play solution for going independent.
Chuck's involvement in the RIA community runs deep… In addition to running Sovereign,
Chuck is also a columnist for
InvestmentNews
. His regular column focuses entirely on the RIA space. Chuck is also the Co-Chair of
InvestmentNews
' annual national RIA Summits
.
Chuck received his degree in Finance from The University of Connecticut and completed his coursework for the CFP® certification with The American College. He currently serves on the Board of Directors for the FPA of Connecticut and Chairs their Pro Bono / Public Outreach Committee.ph. Drag me to add paragraph to your block, write your own text and edit me.
Video Replays from previous RIA summits
Fee-Based Everything: Alternative Investments, Option Strategies and Billing on Outside Assets

Keynote with blaine aikin

There are many more videos replays click the link below to see them all
Chuck's RIA column at InvestmentNews
In addition to being the Co-Chair for InvestmentNew's annual RIA Summits... Chuck also writes a regular column for InvestmentNews. One piece of particuarl note was titled "
What's Your True New Payout
". In this piece, Chuck puts a spotlight on the many hidden fees that advisors and their clients are subjected to.
Get the latest tips and strategies about going RIA & Using PEPs
Learn more about our Plug & Play solutions